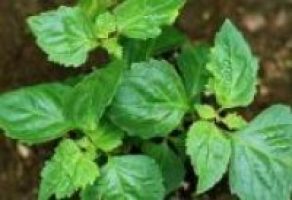 PATCHOULI  Essential Oil
Pogostemon Cablin
Family: Lauraceae -a perennial bushy herb with hairy leaves and stems with white flowers and a hint of purple/or pink. Many grow up to three feet tall.
Patchouli is a thick, misty aroma oil. It is a grounding oil and is known to help improve the appearance of the skin. Patchouli oil works as an anti-depressant and helps to balance hormones. This oil can ease tension, relax the body, and is known as an aphrodisiac.
Found in Asia, Indonesia, Philippines, India, China, Malaysia, and South America. Distilled from dry leaves in Europe and USA.
Traditionally Patchouli is known for its scent in clothing and believed to prevent the spread of disease. China, Japan, and Malaysia use patchouli for colds, nausea, headaches, vomiting, diarrhea, and stomach pain. Japan and Malaysia have used this herb for poisonous snakebites (Lawless, 1995).
Safety data on Patchouli oil states non-toxic, non-irritant, and non-sensitizing.
Each oil consists of many active constituents (chemical makeup), I like to call them properties, that are unique to just that plant, tree, or shrub. Just like your DNA sequence is unique to you. Various parts of that plant (stem, leaves, bark, resin, flowers) are used in making the oil designed by nature for protection and growth. The location in the world where the plant is grown affects its therapeutic nature as well. The mixture of the chemistry of the plant gives it the aroma. There are several ways to extract the oil but mostly the oil is produced by steam distillation. This is known as the best method without harming active ingredients.
Virus and Germ fighting constituents
Patchouli oil contains 40% alcohol by nature. These alcohol constituents are pogostol, bulnesol, nor patchoulenol, bulnese, patchoulene, and others. This alcohol kills virus and bacteria. It also inhibits oxidation. Alpha-bulbesene which is measured at 19% in patchouli oil fights viruses and inhibits platelets from grouping. Alpha-guaiene fights inflammation measuring 15% in pure organic patchouli oil.
Below are evidential research findings on Patchouli oil, specifically patchouli alcohol (PA). A literature review of scientific studies listed the biological activities that patchouli oil has shown capable of producing such as immunomodulatory, antitumor, antioxidative, anti-microbial, anti-inflammatory, insecticidal, and other factors. Clinical applications of Patchouli oil are being considered (Hu et al., 2017). doi:10.1155/2017/4850612   https://pubmed.ncbi.nlm.nih.gov/28421121/
If you wish to read the complete article, copy the doi number or link into the address search bar.
Anti-viral effects of Patchouli Oil
Immune System Effects of Patchouli Oil
Anti-bacterial Effects of Patchouli Oil Alcohol
Anti-cancer Activities of Patchouli Oil
Anti-inflammatory effects of Patchouli Oil Alcohol
Anti-stress and Liver Protection Effects of Patchouli
Emotional and Mental Benefits of Patchouli oil
Vibrational Frequency
Vibration is different in every oil. There are three classification of vibration or notes: top, middle, and base.  A top note is the first oil you will smell in a blend and will be the one that dissipates first. Top notes are bright, refreshing, clarifying, and energizing. Middle notes hold the top and base notes together. You will sense them next after top notes fade. Middle notes are normally warm, balancing, and grounding.  Patchouli is considered a base note. Base notes are thicker oils and vibrate at a lower rate and tend to last the longest in a blend. They have provocative scents and are calming and relaxing. Information obtained from Esoteric Oils, Aromaweb, and New Directions Aromatics.
About Immune 8 Blend
The Immune 8 blend consists of eight 100% pure therapeutic grade essential oils of Cinnamon leaf, Lavender, Lemon, Lemongrass, Patchouli, Rosewood, Tea tree, White camphor.
Being 100% pure therapeutic grade oil indicates that it has been analyzed with gas chromatography (GC) and mass spectrometry (MS) lab procedures to ensure quality and no added fillers such as synthetics are added. Look for "organic" to ensure no pesticides or chemicals were used while growing.
As a result, the reason "why" I added Patchouli into my blend was because of its anti-microbial (ability to destroy virus, bacteria, and fungi), anti-septic, anti-inflammatory, anti-toxic, and anti-depressant qualities. Furthermore, patchouli helps calm the nervous system due to frigidity, exhaustion, and stress. Patchouli is known as a good skin care agent for acne, chapped skin, eczema, sores, wounds, and wrinkles.  Safety data was an important aspect in researching the oils. I checked for non-irritating, non-sensitizing, and non-toxic.
In the Immune 8 blend the top notes are Lemon and White Camphor. Top to middle notes are Lemongrass and Tea Tree. Lavender is middle note. Middle to base notes are Cinnamon Leaf and Rosewood. Patchouli is a base note.
Immune 8 is diluted for you and ready to use at 2% adult use. Never apply an essential oil directly on skin always dilute to 2% for adults and half of that for children.